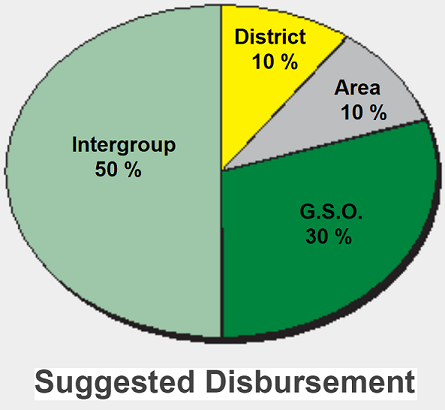 10%
Local District:

10%
Area 30
P.O. Box 51411
Boston, MA 02205
30%
G.S.O.
P.O. Box 2407
James A Farley Station
New York, NY 10116-2407
50%
Intergroup or Central Office
Self Support and the Seventh Tradition
A.A. member and group contributions support all WAI services performed on behalf of individual A.A. members and groups, and support WAI's ongoing twelfth step work.
"Self-support begins with me, because I am part of us — the group. We pay our rent and utility bills, buy coffee, snacks and A.A. Literature. We support our central office, our area committee, and our General Service Office. If it were not for those entities, many new people would never discover the miracles of A.A."
Reprinted from Self-Support: Where Money and Spirituality Mix, page 5, with permission of A.A. World Services, Inc.
"Every A.A. member wants every alcoholic in the world to have the chance that [s]he has had. Every A.A. member wants unity for our movement. Every A.A. member wants the good opinion of medicine, religion and the general public. We know we must have these things or the new [wo]man may never get [her]his chance. The Intergroup associations are the best insurance we can have that our life lines to the hundreds of thousands yet to come will never break or tangle. Let us always be generous. Let us warmly support Intergroup."
Bill W. 1949
In keeping with A.A.'s 7th Tradition, Worcester Area Intergroup accepts contributions from only two sources: A.A. groups and individual A.A. members.

While an A.A. group may contribute any amount, WAI follows the General Service Conference limit for individual contributions of up to five thousand dollars ($5,000.00) per year. Bequests in wills of up to ten thousand dollars ($10,000.00) are accepted on a one-time basis.

See Also