Supporting WAI
WAI is funded by AA members and groups via AA literature sales and contributions.
Contribute by Mail
Contribute Online
Worcester Area Intergroup, Inc.
100 Grove Street Suite 314
Worcester MA 01605
Click Here
To support WAI on a recurring basis: see the "Faithful Fivers form".
Worcester Area Towns & Villages
WAI Membership, Officers & Service Positions
WAI is overseen by two committees, a Steering Committee and a Delegates Committee which together comprise the membership of WAI. Both committees meet on the 2nd Thursday each month. All interested A.A.s and intergroup delegates are invited and encouraged to attend the monthly WAI committee meetings (for directions: click here).

The Steering Committee — the officers of WAI — consists of a chairperson, secretary, treasurer and their alternates, the office manager, and four trustees. The Steering Committee oversees the daily operations and finances of WAI. The Delegates Committee consists of the intergroup delegates from local AA groups. The Delegates Committee votes on all matters beyond the scope of the Steering Committee. At the delegates committee meeting WAI service committee chairpersons give reports, and all attendees can ask questions or share ideas, information, or concerns.

WAI officers, staff, and service positions, with email links, are shown below. For more information on WAI and its operations, see the document WAI Guidelines.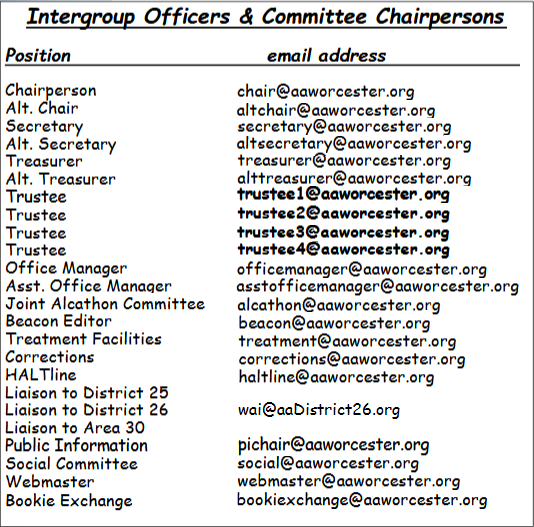 A.A. General Service Structure and Intergroups
A.A.'s general service structure is often depicted as an "inverted triangle", as shown below.

North America is segmented into Regions, with each region represented by a Regional Trustee. Each region is divided into Areas, and each area is represented by an Area Delegate. Each area is further divided into Districts and each districts elects a District Committee Member (DCM) to represent the district at area meetings and assemblies.

At the top of the triangle are the A.A. groups, each represented by a General Service Representative (GSR) who can voice their group's conscience (and may vote) at district and area meetings and assemblies.

At the bottom are two corporate entities: A.A. World Services Inc. (AAWS) and A.A. Grapevine Inc. (GV), which are governed by a General Service Board which in turn is governed by area delegates who may attend and vote at an annual General Service Conference.

For official information on A.A. general service see the AA Service Manual, and see the Area 30 Service Manual for information specific to eastern Massachusetts.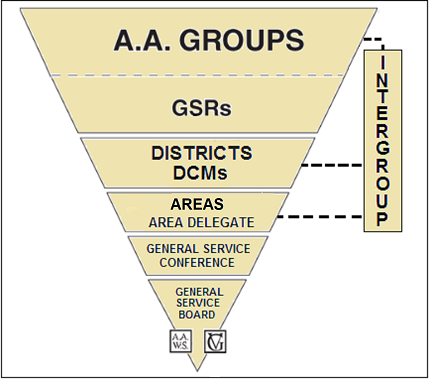 An A.A. Intergroup (also called a Central Office) is a committee or organization that serves A.A. groups at the local level. Intergroups often staff a 24-hour hotline, a physical office, and provide local committees and local resources to support AA's primary purpose at the local level: to help the still sick and suffering alcoholic.

Intergroups and central offices have existed since the earliest days of A.A. and operate independently of A.A.'s general service structure. Many intergroups are incorporated, nonprofit entities governed by charters or bylaws and elected officers and delegates, and may employ paid staff members.

An Intergroup Committee is mainly composed of Delegates from local AA groups. Each AA group can elect a delegate to represent them at Intergroup committee meetings. A delegate is an A.A. group's link to an Intergroup, equivalent to the GSRs who represent groups at District and Area assemblies. A district may also elect a delegate, or Intergroup Liaison, to serve as a conduit between the district and local intergroup. Similarly, an intergroup may elect an Area Liaison to represent the intergroup at area assemblies and meetings.

In addition to WAI, within Massachusetts' two areas—Eastern Mass (Area 30) and Western Mass (Area 31)—are the Eastern Mass Central Service Office in Boston, the Western Mass Intergroup Office in Holyoke, the Berkshire Intergroup Office, the Cape Cod Intergroup Office, the Martha's Vineyard Intergroup, and the Nantucket Intergroup.