ANNOUNCEMENTS
AA Group News
Aug 19-21 MSCYPAA Campout
Emerald Lake Park, East Dorsett, VT Friday August 19 - Sunday August 21. For details see the flyer, to register: click here.


Sun Aug 28 District 24 Picnic
District picnic Lake Boon Pine Bluff Recreation Area, Stow, noon-4 pm, gratitude meeting 3 pm. See the flyer for details.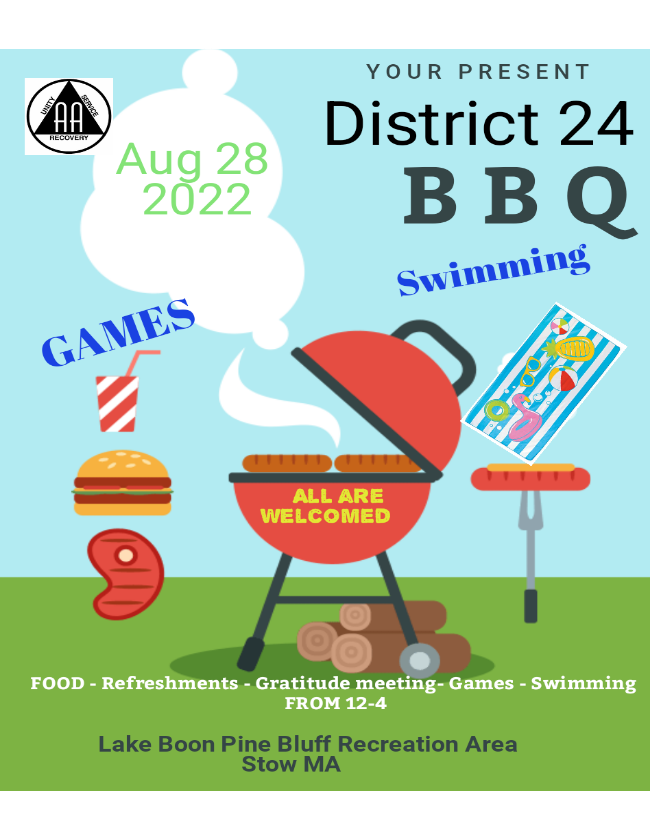 Sun Sep 18 Block Party
End of summer block party, hosted by the Joint WAI Activities Committee. For details see: the flyer.
Sat Aug 20 Jan P Tribute
After more than nine years of continuous sobriety, Jan P. was struck down by a tree on May 26 and finally passed on August 9. A wonderful person and AA fellow, we are celebrating Jan P at the Salem Covenant Church on Saturday, August 20 at 1:10 PM, following the Greenhill noontime meeting. Select guest speakers will be followed by a show-of-hand shares, and a musical tribute from fellow member Amy. Enjoy coffee, water, and free candy (Jan used to give out candy, especially to newcomers, at High Noon.) Jan P was much loved and helped many people and will be deeply missed.
AA News & Events
Thu Aug 11 Writing the Big Book

Online meeting to read/review a book about the history of the Big Book. Author William Schaberg answers questions & provides further background at each meeting.
Zoom:
891-7799-2594
Passcode:
WTBB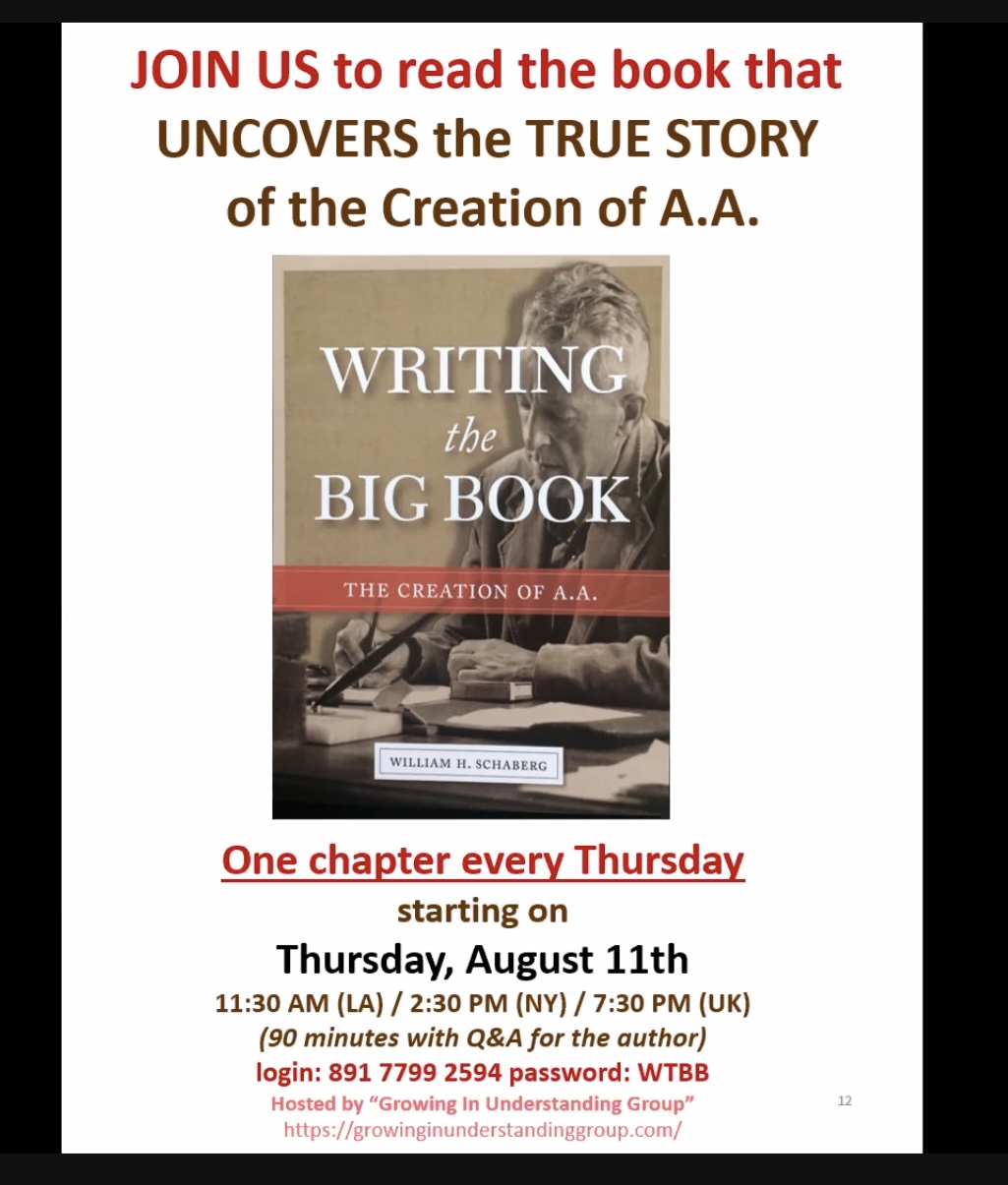 Thu Aug 11 Delegates Meeting
WAI delegates meeting Thursday August 11 7pm, in-person & Zoom. Steering committee 6 pm, delegates committee 7pm. Salem Covenant Church, 215 Mountain St E. On Zoom:

Zoom: zoom.us/j/912007235
Passcode: Sober2020
Dial-In: 1 646 558 8656
Conf#: 912 007 235
Passcode: 025337
Sun Sep 11 Area Assembly
Area Workshop Assembly Sunday September 11 in-person and online via Zoom.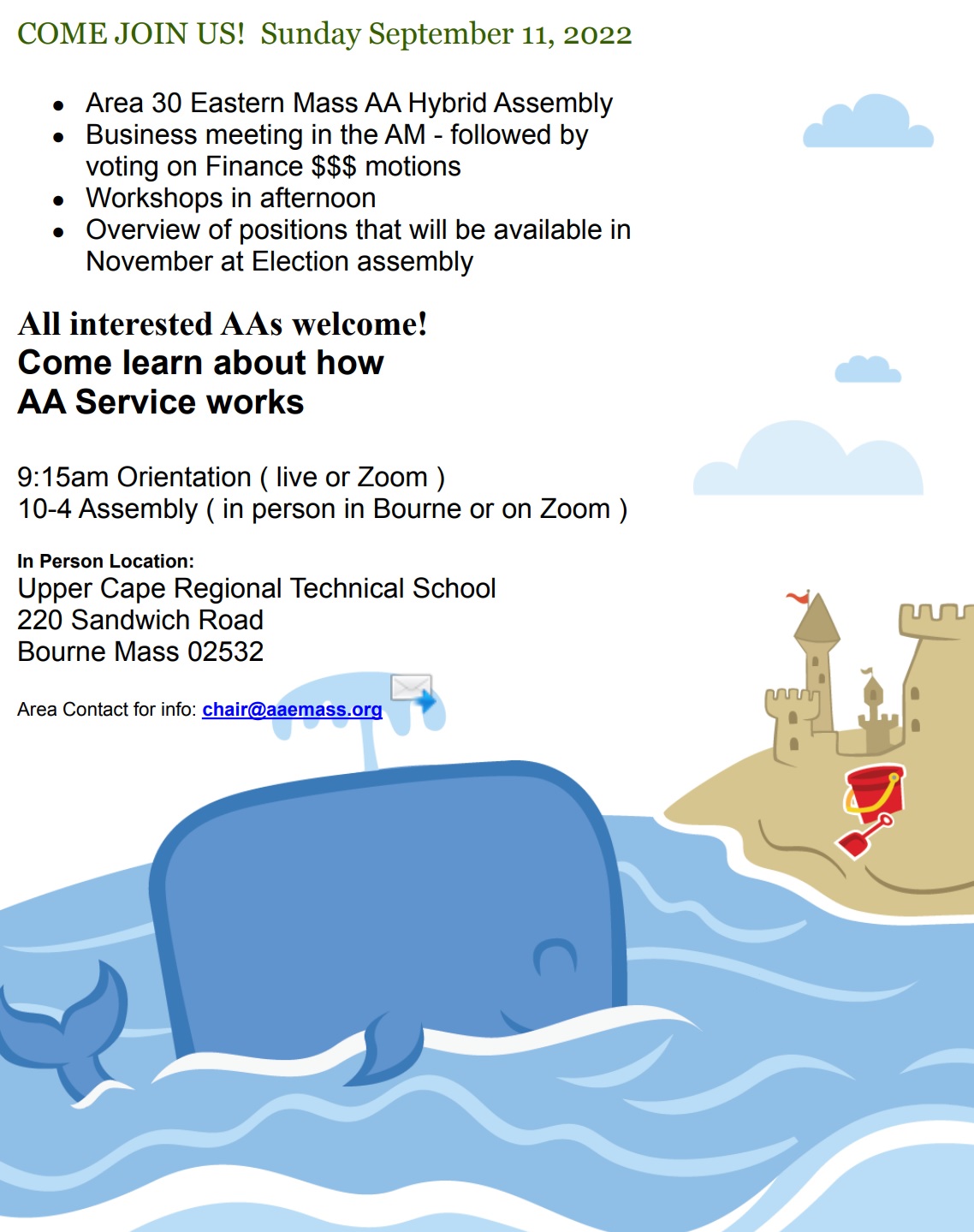 Tue Sep 13 7:30 Pizza Party
District 23 hosts a pizza social for GSRs at Faith Community Church, 146 E. Main St Hopkinton. All GSRs and interested AAs welcome.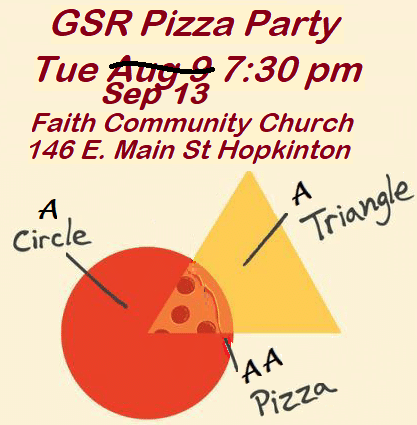 Quick Links + Tools
Subscribe to WAI for email alerts and The Beacon newsletter. Learn More
If a meeting has resumed meeting in-person, please let us know so we can update our list and Meeting Guide app feed: Resuming In-Person Meeting Form. Thank you.
Grapevine Box 4-5-9
For the current issue of Box 4-5-9: click here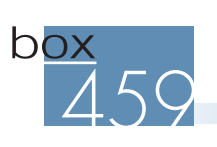 GSO News & Announcements
AA.org News & Announcements Page
Boston CSC Secretary's Bulletin
Boston CSC monthly bulletin: click here
Area 30 Newletter
For the Area 30 newsletter The Messenger: click here.