ANNOUNCEMENTS
Group News
Treatment AA Book Drive
Donate a NEW Big Book or 12 & 12 book to a newcomer. Books are earmarked for newcomers in treatment, using a collection box at WAI. The book drive ends December 31. For more details, see the flyer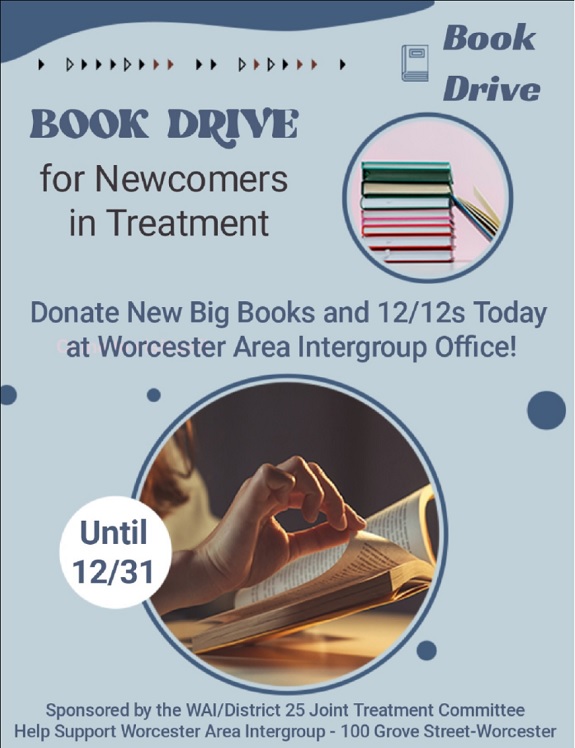 Sat Oct 30 8 pm Halloween Party
Halloween party Saturday October 30, 8 to midnight. For details see the flyer.
AA bookie exchange Sunday November 14 at 6 pm on Zoom for all bookies and interested AAs in metrowest.

Attendees take turns sharing open dates, with breakout rooms for specific exchanges.
Looking to book an AA group or treatment commitment? Zoom in to the exchange!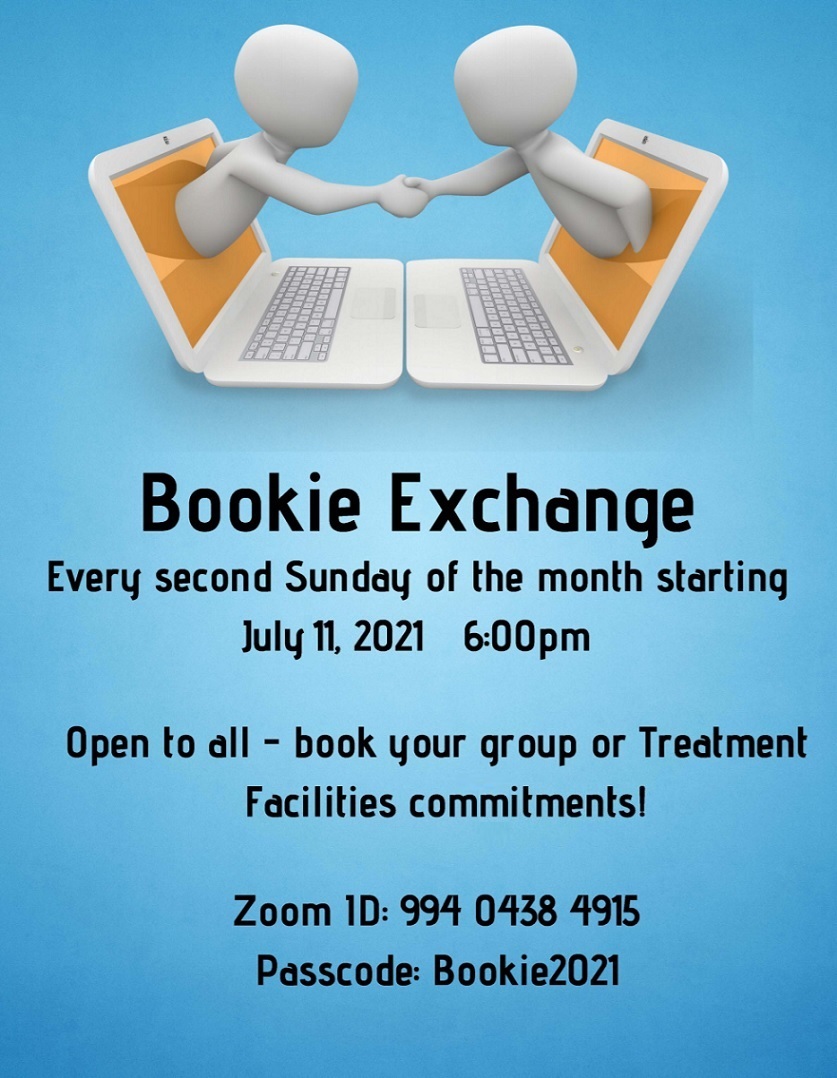 State & Local AA News
Nov 7 Area 30 Assembly
Area 30 Workshop Assembly at 9:30 am Sunday November 7, via Zoom, including a group inventory. See the Area 30 website calendar at aaemass.org for details.
Nov 24-25 Holiday Meetings
Thanksgiving holiday alcathon meetings via zoom and in-person are being held over the Thanksgiving holiday.

Thanksgiving Alcathon
WAI's Alcathon committee and District 25 are hosting a virtual alcathon via Zoom. For details, visit WorcesterAlcathon.com.

In-Person Meeting Marathon
In-Person meetings during the Thanksgiving holiday are being held at Salem Covenant Church in Worcester. See the flyer for details.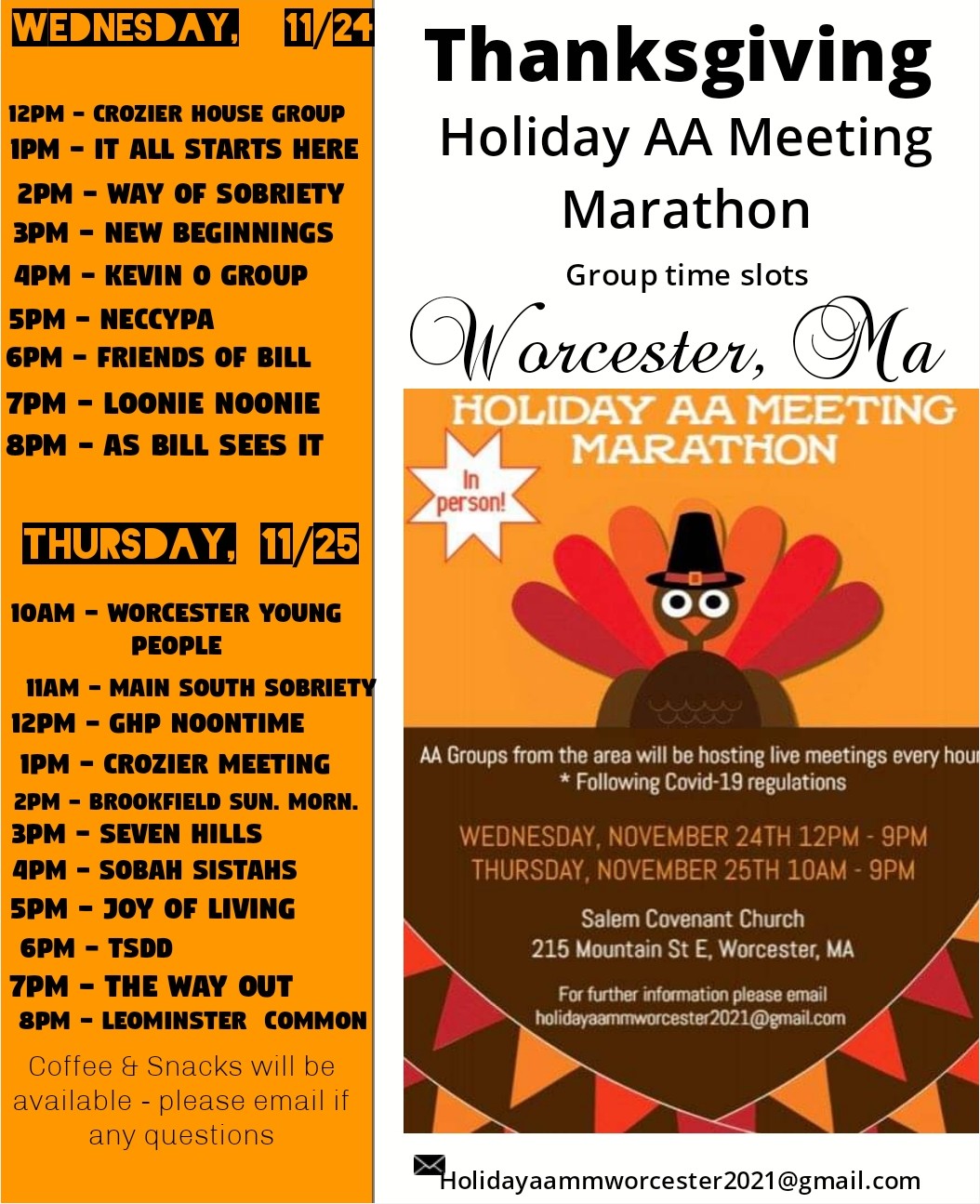 AA Resources & Tools
Local Meeting Lists


Subscribe to WAI for email alerts and The Beacon newsletter. Learn More
If a meeting has resumed meeting in-person, please let us know so we can update our list and Meeting Guide app feed: Resuming In-Person Meeting Form. Thank you.
WAI and Districts 23, 24, 25, 26 are meeting as follows.
WAI Delegates Meeting 2nd Thurs @ 7 PM In-Person & Zoom

Web link: zoom.us/j/912007235
Password: Sober2020
Dial-In: 1 646 558 8656
Conf#: 912 007 235
Password: 025337

WAI delegates meet on the 2nd Thursday at 7 pm at Salem Covenant Church at 215 Mountain Street East in Worcester and on Zoom.


District 23 GSR Meeting 2nd Tues @ 7:30 PM

District 23 GSR meetings are held on the 2nd Tuesday at 7:30 pm at Faith Community Church, 146 E. Main Street in Hopkinton.


District 24 GSR Meeting 1st Thurs @ 7 PM

Web link: click here
Zoom ID: 929-600-6039
Passcode: ANBPBF

District 24 GSR meetings are normally held on the 1st Thursday at 7 pm at Trinity Church on Elm Street in Concord.


District 25 GSR Meeting 1st Tues @ 7:30 PM

District 25 meets on the 1st Tuesday at 7:30 pm at Salem Covenant Church, 215 Mountain St E in Worcester and on Zoom:

Web link: zoom.us/j/311 969 752
Password: Sober2020
Dial-In: 1 646 558 8656
Conf#: 311969752
Password: 025337


District 26 GSR Meeting 1st Thurs @ 7 PM

District 26 GSR meets on the 1st Thursday at 7 pm at Emanuel Lutheran Church, 1200 John Fitch Hwy in Fitchburg, and via Zoom (for Zoom info: click here)
Grapevine News - September
Grapevine News for September: click here
Grapevine News - October
Grapevine News for October: click here